Good-glamping.com

- natural camping at its best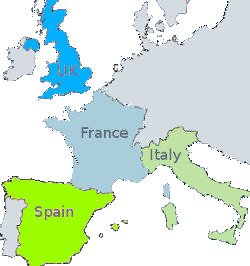 Welcome to Good-glamping.com.

A very selective directory, Good-glamping.com only lists small glamping sites with a maximum of 20 glamping units, and usually far fewer than 20.
While many sites are exclusively for glamping, others are small traditional campsites that include up to 15 glamping units out of a total of no more than 60 pitches in all.
For the time being the resource covers France, Spain and Italy, but new small and good-quality glamping locations are being added on a regular basis. In due course Good-Glamping.com will be a one-stop source for finding some of the best small glamping sites in Europe
Choose a country
or click on the map
Choisir votre pays ou
cliquez sur la carte

Britain

- Coming
France

Spain

Italy

Other countries - coming: Austria, Switzerland, Scandinavia
Find glamping sites:
Find dedicated glamping sites and small rural campsites that provide glamping facilities as well as normal camping spaces.
Selected small rural campsites up to a maximum of 60 pitches, including up to 15 glamping units
A choice of dedicated glamping sites, with luxury tent or yurt accommodation, and a maximum of 20 units.
►
What is Glamping ?
Driving in France
See
Driving information pages
for France. Tips and info, rules of the road, motorways, restrictions, dates to avoid, fuel prices and lots more
Compare the differences....
Almost by definition, glamping implies accommodation in an uncrowded rural environment - or at least it should do. That has not stopped a growing number of large campsites cashing in on the word, by adding some upmarket and offbeat chalets and fixed tents to an already-existing park of basic holiday chalets or bungalows.
The glamping sites featuring on Good-glamping.com all offer glamping facilities without the crowds.
The term
Glamping
first appeared in 2006, as a contraction of the words
glamourous
and
camping
. The adjective
glamourous
does not perhaps convey quite the right meaning.
Refined
camping would be nearer the mark, but
Recamping
doesn't sound so good.
In contrast to traditional camping, where visitors arrive with their own tent or caravan, Glamping involves the hire or rental of fixed or moveable units that are provided by the site owners. Many glamping sites offer a range of different units, including yurts and high-quality tents, gypsy-caravans, chalets, tree houses, log cabins and even vintage classic caravans. In good glamping sites, these are well furnished with quality fittings, and there is nothing for visitors to do other than turn up, sign in, and enjoy the relaxing environment.
Like any form of camping, glamping is generally self-catering, and visitors will provide their own food, do their own cooking or eat out. Some glamping sites, though typically not the smallest ones, may have a bar or a restaurant
Making a reservation.
For glamping holidays in small glampsites, booking is always recommended. Even outside the peak holiday period in July and August, small dedicated glamping sites, and the glamping facilities in other rural campsites, can easily get booked up. All it takes is for an extended family or a company to organise a get-together involving upwards of half a dozen units, and a glamping site can become fully booked, or largely booked
Copyright © good-glamping.com 2020 except where otherwise stated.

All photos copyright Good-glamping.com except where otherwise indicated
Photo top of page by Imcpy