Good-glamping.com
- natural camping at its best
Choose a region /

Choisir votre région



1. North west France
Brittany and Normandy
3. Northeast France, Hauts-de-France and Grand-Est regions
2. Paris region, Centre, Loire Valley, Burgundy
5. The uplands of central southern France - Massif Central - Limousin, Auvergne
4. Southwest France, Poitou-Charentes, Aquitaine etc.
6. The mountains of south-eastern France The Jura and the Alps
7. Gascony, Midi Pyrénées
Glamping in the South of France, Provence, Languedoc,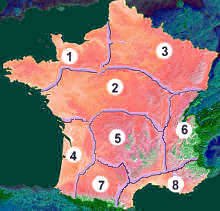 Glamping sites listed in this directory are entirely independent

Glamping sites in France listed on Good-glamping.com have been selected or acccepted into the directory on the basis of their qualities and their facilities. This directory does not knowingly list glamping sites with more than 20 units, or more than 20 glamping units in a campsite with up to 60 spaces.
The nature of glamping units differs from site to site. While some glamping sites offer essentially solid fixed units, such as chalets or log cabins, others offer luxury tents such as furnished yurts and spacious upscale tents. Many offer a combination of different units
Propose a glamping sites

to this guide:
Recommend

a good glamping site in France or another country. If you run or have

stayed in

a small glamping site that you think ought to be in this directory, contact Good-glamping.com with details. Use the submission form :

click
Copyright © good-glamping.com 2019 - 2020 except where otherwise stated.

All photos copyright Good-glamping.com except where otherwise indicated
Photo top of page by AD04 - Licenced Creative commons 2.0